WE STEPPED BACK IN TIME, TWICE!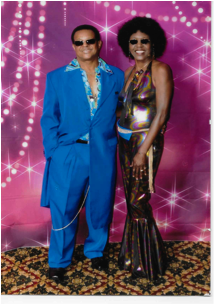 My husband Ralph's family has held family reunions for many years.  This year made it their 43rd which was held in Denver, CO.  There are suggestions/votes to which cities we would visit for the next two years.  Once suggestions are made and votes have been counted for the most popular cities, either where a family member lives or they will have volunteers when there is not a family member in that city to arrange accommodations for all (that even included a cruise).  There are usually between 150 – 200 family members attending from different states.
Each year, a banquet is held where there is a color/theme.  This reunion was held in Chicago in July 2012.  The theme was to dress in any era/decade that you liked.  There were many different eras worn.  As you can see,  Ralph & I picked the 70s.
This year, the theme was the Gatsby era.  It was fun seeing all the flapper dresses and men's zoot suits or gangster style outfits, and even the children are always involved.
Ralph & I have attended 21 reunions and enjoy each time.  We have a lot of fun with family members, many that we don't see until that time.  We enjoy attending and can't wait until we find out where we'll be next.  It has really given us an opportunity to explore different cities that we have not visited.
On another note, since my blog is scheduled on this day, I want to wish my wonderful Mom a Happy Birthday.  We Love You Much!